India is full of thrilling, weird and unforgettable sites. Travelling in India is absolutely a roller-coaster ride which is incredible, jaw-dropping., spell-binding and astonishing. The wonderful country has invited lakh of tourists per year and has something to offer to every tourist: mountains, adventure sports, historical monuments, temples, natural & artificial scenic beauties, beaches, flora & fauna for all the senses. The country having 22 major languages with more than 720 dialects is riddled with so many breathtaking and awe-inspiring things which are not less than the experiences that Alice came across in Wonderland. Few spectacular Waterfalls are listed below which could make you feel excited to know: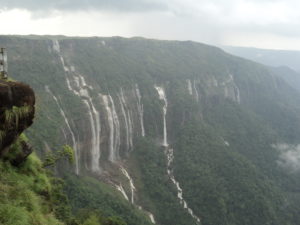 "Nohkalikai waterfalls" – One of the highest waterfalls in India
Nohkalikai waterfalls is one of the highest plunge waterfall in India, a marvelous site to behold, located at a distance of just 7 kms from Cherrapunji. The most gorgeous waterfalls of Meghalaya cascades down over limestone cliffs of Khasi Hills from a height of  around 1115 feet (340 metres), making it the tallest waterfalls in India and the most popular tourist attraction of Cherrapunji. You can have a panoramic view of the falls, cascading down into a pool-like formation. To witness the amazing prime tourist destination, visit the site between July and September. You can enjoy not only a panoramic view of the waterfalls dropping in streams but also the lush surroundings of the green forests. There's no doubt at all; the highest falls will surely leave you in awe.


This waterfall is named after the tragic legend story of a woman called Ka Likai means 'the leap of Likai' in local Khasi tribe's language. After the death of her husband, she had remarried to a man so that her daughter can have the love of a father in her daughter's life. On the contrary, her new husband was green with envy that her wife gave all her time and love to her daughter. So, he killed the daughter when her wife was away for work and cooked her flesh as meal to hide the evidence. Ka likai searched her daughter all over the place but couldn't find her. She was shocked not see her daughter around but was happy that her husband had cooked a meal for her. She enjoyed the food, later; she found her daughter's fingers lying in basket filled with betel-nuts. Filled with grief and remorse, Ka likai rushed to the cliff and threw herself down. Then, so the fall was named after her Nohkalikai waterfalls.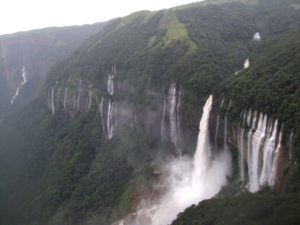 How to Reach Nohkalikai Falls, Cherrapunji:
The scenic site is at a distance of around 7 kms from Cherrapunji. In order to witness a rewarding experience, hire a taxi either from Shillong or Cherrapunji. You can also hire a can from Paltan Bazaar in Guwahati or Police Bazaar in Shillong, to reach the place.


You have to pay a minimum amount of entry fee to enjoy a panoramic view of the waterfalls and for your camera. Trekking, camping, photography, bird-watching and swimming are many other activities everyone can do here.
You can also visit the Mawsmai Cave and experience a rewarding & thrilling experience of Caving. Another waterfall you cannot  take your eyes off  is the Dainthlen Falls which is also just 5kms from Cherrapunji. Then there are the Seven Sisters waterfall also referred to as the Nohsngithiang Falls. The uniqueness of the waterfall is that seven streams of the waterfalls collectively flow down the cliff hence it is named the Seven Sisters.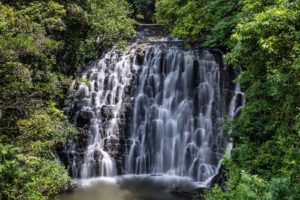 The cited waterfalls are not the end, another popular Waterfalls in Meghalaya is Elephant Falls which is located at a distance of around 12 kms from Shillong. The massive rock lying at the foot of the waterfalls looks like that of an elephant, so Britishers named it.